Name: 026 Emergence AKA Dragonfly
Height: 1 inch
Weapons: Stinger
Summary:
Dragonflies are insect-like Emergences that can occasionally be seen roaming the
Wasteyard
. They are normally aggressive, but there are some cases in which they are passive. They sometimes form small swarms and gather up materials and build a large nest to live in.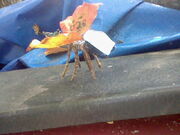 Ad blocker interference detected!
Wikia is a free-to-use site that makes money from advertising. We have a modified experience for viewers using ad blockers

Wikia is not accessible if you've made further modifications. Remove the custom ad blocker rule(s) and the page will load as expected.